Hier und auf den folgenden zwei Seiten, können Sie den englischen Reisebericht eines Reiseteilnehmers lesen.
Die Fotos dazu sind von travel4fun.

Vielen Dank für den toll geschriebenen Beitrag lieber Dieter.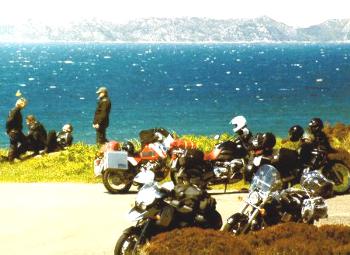 Subject: Scotia 1
it started like it should have started when the 'rainman' travels. First it was raining and then pouring.

But I had all the right clothing - they also call me 'gadget man'. Watertight boots and gloves and the latest BMW jacket with 'climate control' (little wax pebbles that hold the heat). It worked great in the cold rain. I only wish I had bought the under pants in that technology. After 1 hour in the rain I had that cold and very uncomfortable feeling creeping up my legs pointing out the heat losses in all the wrong areas. So I stopped at what used to be the Dutch border (no more now in EEC) and tried to change my underwear in a restroom. But they wanted .75 Dutch guilder. And I only had a German 20 DM bill. But they changed the bill. It felt in my pocket liked I had won the jackpot in Cripple Creek. Finally, with my warm underwear, I left the rest room to see that the rain had stopped. Thank you Mr. Murphy.

Another 1.5 hour to the harbor. And just before I reached the ship it started raining again and a very, very strong wind came up.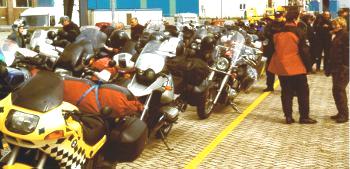 After a wait of 3 hours we could enter the boat. Great, I had a single cabin. But why did they have two beds made. Just as I had 'let my paints down' there was a knock at the door. Did I mention my friend Murphy before? The steward introduced a young man - a bus driver - who was to share the cabin with me. Double booking. How bloo..y nice. He also had a single booking.. .and every cabin was booked. Standby? In order to support his desire to fight for a single cabin I put a fresh set of ear plugs on the table. 'My wife claims that I am snoring... just in case you need it'.
When I came back after 1 hours, he had found another possibility. Good.

And then the captain announced the sailing time from Amsterdam to Newcastle, UK as 16 hours, but ... it could be an hour more because of the strong wind expected, force 7-8. And was it ever.
To be on the safe side I just had a shrimp sandwich for dinner, and a beer to flush it down. I then topped it with some chocolate - I case I had to let it 'go through my head' again. My cabin was in the middle and on the outside, couldn't open the window but see and feel the rough sea and the white water coming over. Did not have much sleep that night, always woke up by the ship going up and down. But I was doing ok - until I went for breakfast in the morning. The restaurant was in the front part of the ship. So it moved very, very strongly up and down. So much that you lost watching the horizon when looking out of the window. The breakfast was a buffet type - all you can eat. They saved a lot of money that morning. I had a pastry, a tea and a yogurt - for the price of price of US-$ 10. Hey Murph, again! But I was better off than the other people in the group. They had forward cabins and could enjoy the full up and down movement of the ship. The tour guide was sick, one couple did not even enter their cabin but slept on the carpet floor near the reception. And then we were in Newcastle-upon-Tyne, clouds, sunshine - cold.

The perfect start of a fun-trip to be.
take care y'all - Murph and I are trying hard.
Dieter

PS
just entered the bed and breakfast place in Keswick, Cumbria.
Nice - only the first two night I have to share the room with the two tour guides (because of my late booking).
And while I type this one of them is snoooooring like hell....


Subject: Scotia 2
We started off for Keswick, Cumbria - the Lake District in North England the border to Scotland. The area is BEAUTIFUL. Typical English countryside, green pastures, plenty of sheep, more stonewalls than I have ever seen in my life and very cute cottages, pubs and inns, 'Kinkade' could have designed them.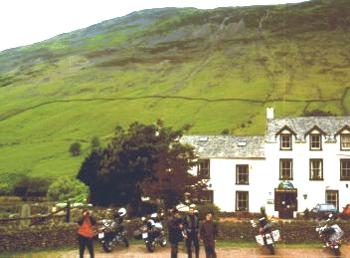 The roads are really nice to drive, but more challenging than in Italy because of the stonewalls you can never see what is around the corner.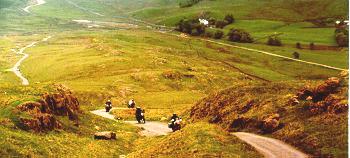 The English breakfast in the B&B place we stayed fills you up until the afternoon. But no smoked kipper yet, 'just' ham, eggs, mushrooms, tomatoes and sausage. And of course orange juice, tea and cereals or even porridge, if you are brave enough.

Foot and Mouth Disease (FMD) is present everywhere. Every few miles there are road signs for ramps and carpets or rugs on the road that contains disinfectants. This area lives on sheep and farming but also on tourism. So it is an attempt to have it both.

As expected I do have a language problem over here.
One of the tour guides is from a part of Bavaria that still has a very, very loose connection to the German language. And I have the greatest difficulties in understanding him. So when it gets too tight, I ask him to speak English - that I can understand better..

Today we will leave for Scotland - and believe it or not - the sun is shining. A good sign? I better ask Murphy.
On the road again
Dieter

Subject: Scotia 3
Well, now we ARE in Scotland. On the west coast in Ayr. Have visited a nice castle and enjoyed a Scottish 'afternoon tea' with scones, cream and strawberry jam. Wonderful - only tomorrow I will replace the tea by ' a 'pint of best bitter' and the scones by a bit of cheddar. Now I know where the Texas breakfast 'biscuits got their dryness and brittleness from.

We have just started in the' Lowlands' and tomorrow we will go to the Isles of Arran, Mull and then Skye. We'll use a total of 9 ferries during this trip. I do hope the others are not as rough as the first one coming here.


So far the BMW bike runs well and I seem to have packed wisely.

Tonight I finally have my own room. Actually it was not too bad with these two other guys (the tour guides) in one room if it would not have been for the language problem - with the Bavarian. And he snores in Bavarian too - very solid and down to earth!

Had a pub dinner: breaded, fried haddock with tartar sauce and a pint of Guinness to wash it down. They do have Guinness in almost any pub.
Great, drinking Irish Guinness beer in Scotland means that I can combine a trip to Ireland with a tour around Scotland - all for the price of one.
That's the real Scottish attitude.
In our group we have some real connoisseurs. They drove all the way from Germany to order 'authentic Italian lasagne with potato chips' and a coke.
Have started my own 'tour de malt' and sampled a different malt whiskey every evening. So far I must say that I do not particularly go for the whiskies from the isles. The have a medicine taste about themselves. Sorry for Scotland, but the Irish Bushmills 'Black Bush' is still my favorite.
Ah, well another 10 days to go. Scotland, you get a fair chance.
Have to move on, it's raining this morning.
Dieter - on the road