Hier und auf den vorangegangenen Seite, können Sie den englischen Reisebericht eines Reiseteilnehmers lesen.
Die Fotos dazu sind von travel4fun.

Vielen Dank für den toll geschriebenen Beitrag lieber Dieter.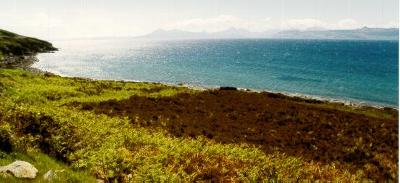 Subject: Scotia 7
Another day without rain in Scotland. And in Germany they are said to have rain. Strange world.
We went to visit a cooperage - a place to make but especially re-condition used barrels for storing whisky. Most of the whisky barrels are imported as bourbon casks from USA or as sherry barrels from Spain. It is a hard job to handle these heavy barrels, take portions out and put new (used from the same type of barrel) portions in. By law barrels are only to be used once in the USA. Then they are sold to Scotland and used for storing and mellowing the fresh, raw whisky which does not have a color yet. And this hard job of re-conditioning barrels is carried out by the workers until the age of 65. I was really grateful at that moment for my early retirement package.

After the cooperage we went to see the Glenfiddich distillery which belongs to the Grant family. Glenfiddich may not be the best single malt whisky but their factory tour and their marketing are outstanding. Apparently the sales are going slow a the moment. They believe it is the strong English pound and the lack of demand from the Far East. I personally believe that Glenfiddich was the forerunner for single malt worldwide. In almost every hotel or bar of the world you find this brand with it's famous rectangular green bottle. But now that single malt whisky is widely accepted and has a growing number of supporters (leaving Cognac out in the cold), people are looking for something more special, unusual or fancy. And that is the moment when the Glenmorangi, Glenlivet and Cardhu's come in.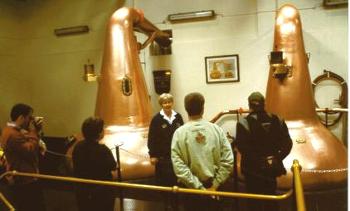 My own tasting experience so far can be concluded as follows:

Most of the single malt whiskies from the Speyside area are easy to drink.

The malt whiskies from the isles especially Islay are very special in taste and take some tasting to get used to. These labels have are very strong smell and after-taste, some say peaty (deriving from the firing with peat = Torf) other say it tastes like.. antiseptic lotion. For me they also taste like antiseptic - but I am beginning to accept the taste.

My personal grouping (subject to change, comments welcome):

A) easy to drink - very smooth
Dalwhinnie, Knockando, Macallan, Balveni
Glenmorangi (Madeira finish), Springbank

B) easy to drink - but not quite so smooth
Cragganmore, Glenmorangie (standard), Glenlivet, Glenfiddich
Aberlouer, Cardhu, Bunnahabhain, Highland Park

C) requiring more testing/tasting
Laphroiag, Ardbeg, Lagavulin, Talisker

Well, I have to be careful. When I start getting potty over Islay whiskies and take the bike out in the rain to ride for fun... then I should stop going to Scotland.

Today will most likely not be my day. On popular demand of the women in the group we are going to Balmoral Castle. Nothing for me.

By the way, we are in Stonehaven, on the East Coast now. Dunnotar Castle was quite nice to look at, but a long walk from the parking area. And that while being dressed for riding the motorcycle. Always the wrong clothes:walking too warm, riding too cold.
Dieter - on the road again

PS -
I just found out that the distillery of 'Royal Lochnagar' is close to the castle of Balmoral - well... eat your heart out Lizzy!

PPS -
Me thinks me found me very own special single malt whisky. And the winner is ...... 'Royal Lochnagar'. No 'Glen...' but a 'Loch..' whisky. I did skip Balmoral and went to the distillery of 'Royal Lochnagar' belonging to the group of 'United Distillers' instead. And I am glad to say that I had already tried almost all of their single malt brands except of two. So, after the tour around the distillery, which I can highly recommend, we had a dram (local for a sip or drink of whisky).
And there it was, the feeling that the long search may be over.. at least for a while. Uh, that was hard work - all that tasting every night. I can relax now.
But this judgment is subject to change as I might come back to Scotland for another round. Now I just have to try to find this brand in Germany. But that will we another task.


Subject: Scotia 8
And ... another day in Scotland without rain, just the clouds.

From Stonehaven via Balmoral and the distillery of 'Royal Lochnagar' royal because good old Queen 'Viccy' visited when there was nothing in TV program that day, we went to visit Blair Castle which has quite an impressive collection of 'knick knocks'.
Since I had heard the expression ' would you like a 'wee dram' very often but could not exactly translate the term DRAM ( no I did not want a *drum* especially not a 'wee drum') I did ask one of the Scottish guides in Blair Castle. He thought a while and then answered in very good German that it best could be translated as 'Schluck'. Surprised, I asked him where he had learned such good German, he said 'Wuppertal' and asked me where I came from and as usual I said 'Cologne'. And then be both had to laugh because I had said 'Cologne' because no one
knows 'Remscheid' and he had said 'Wuppertal', because no one knows 'Sprockhoevel' where he had worked in a restaurant and 'Ennepetal' where he had lived. And all these cities are just next to each other in our area.

So far I have not eaten meat at all, except of the breakfast. The fish is very good and fresh. And of course fish and chips with vinegar, but nowadays not out of newspapers any longer but Styrofoam cups wrapped in white paper. I remember that there used to be a different taste just according to the newspaper the shop had chosen :-)
The Scottish breakfast in all of the B&B places was outstanding so far. Yesterday we had the most versatile and best tasting in Stonehaven.
Bacon, sausage, poached egg, black pudding (gebratene Blutwurst), fried bread, fried fruit cake (believe it or not) and ... of course .. haggis. And I will not indulge in what 'haggis are or how they are made, you have to find by yourselves. Sufficient to say that I liked them. Now, go on and condemn me!
I have never seen so many dead birds on the roads as in Scotland. Either the Scottish birds are fairly slow in the off take or the Scottish drivers are exceptionally fast.
To day we will leave the Highlands from Pitlochry and go to Crail and the West Coast via St. Andrews - the Mecca of the golfers.

No, I do not play golf and most likely will not start any more. Ain't got no time - I'm retired.
Dieter - on the road again.


Subject: Scotia 9
No rain today....almost a song, true .. but may be tomorrow.

We took off from Pitlochry and toured around some very beautiful lake = loch . Additional language bits: mountain = ben, valley= glen, a small drink= wee dram, cheers or to your health= slainte. I hope I got that right.

Last night at the bar of a hotel next to our B&B place ... ahh the glory ... I finally reached the stage where *I* could tell the bartender something about single malt whisky!! He did not even know the basics. But then again he was not real match. It was like a computer game where you are shooting at stampeding turtles in a pool of peanut butter. Not much of a challenge. Turned out he was English and only recently took the job.

Went to Glamis Castle today. Very professionally done, too professional for my liking. Upon arrival we were asked to pay the entrance fee immediately. I felt hungry and wanted to grab a bite to eat at the coffee shop first before visiting the castle. 'You don't go anywhere without an entrance ticket'. Either the guard had an attitude problem or I have a perception problem. If I would not have been with a group I would have turned the bike around and left for the next tea room in town. Who needs castles any how, I'm here for the gorgeous countryside.

Well, after all that kindness and hospitality we had to come across so far, just one exception to the rule is acceptable.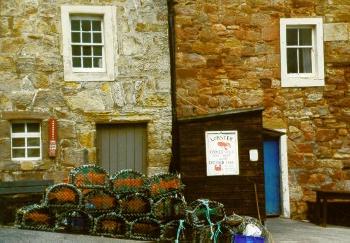 Then we visited Stan Drews. It is a very nice university town with a very nice un-restored old church. We stopped down at the seaside, but nothing much to write mother about. Just a large sandy beach, a strong wind blowing and some wide open green pastures with an old building where some people crowded watching others playing some game where you try to hit a tiny ball with a tool that is totally inappropriate into a hole in the ground. At least no one else is touching the ball and it always waits for the player to do something. Although it was not my kind of game, I did try to play a round or two, but they had a waiting list - couple of years or so - and the 'entrance fee' was far too high and they said that would need to know about my handicap. Being German was not enough. Hope I did not offend any golfers. They seem to feel differently about St.Andrews.

As far as riding a motorcycle is concerned, East Scotland and especially the Lowlands are as interesting as North Holland. But there are quite some nice coastal villages. Crail i.e. has a charming harbor, almost like some places in Cornwall.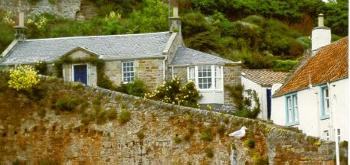 And we ended up in a great B&B place, a 200 year old cottage nicely re-done with central heating, modern bathroom facilities and a charming winter garden built onto one side. This certainly was one of the highlights of the tour. Very friendly owner and the landlady cooked for us.
Lentil soup, haggis with turnips and mashed potatoes and .. last but not least .. the best sherry trifle I have ever tasted with a lot of double clotted cream on top. Yummy!

Y'all sure will understand that I just had to dig into my saddle bag and find a miniature bottle of 'Lagavulin 16 years old' (which I intended to bring to Germany) to top it all off. Remember 'Lagavulin' was one of the section C whiskies: requires further tasting and some getting used to.
And .. suddenly I did not feel so bad about the peaty taste any longer. Almost like medicine, it has to taste bad if it is going to help fighting an overloaded stomach.

Tomorrow we have just a short trip to Edinburgh. But we may try to shoot skeet or trap on the way, if there is enough time and if it should not be raining yet. No more visiting castles please. Never mind the crown jewels.

The new leather riding gloves which Mum had advance contributed to the trip as a birthday present are perfect. Great feeling and sure grip when negotiating curvy roads.
Thanks Mum.
Dieter - on the road again.

PS

Here's tae us!
Wha's like us?
Damn few and
The're a' deed!
Scottish toast


Subject: Scotia 10
I was a short trip to Edinburgh. But we stopped some 40 miles north at Cluny and went to 'Cluny Clays', a shooting rage. There we tried our skill at skeet, trap and a 'hunting trail which was set out between trees and bushes. I fired about 50 rounds and also hit about 10 of the clay pigeons. The ones that I did not hit at least looked very frightened when they sailed by. And some hit back, the rifle that was, still have some blue spots at my shoulder.

We arrived in Edinburgh in time to complete the red and the blue bus tour. But no time for visiting castle or the 'Royal Britannia' yacht ( another Castle, disguised as a ship).
To be honest, I fell asleep 4 times on the bus. Somehow all this riding the bike every day, between 200 and 350 km of small country roads took its toll.

And the last day, just riding, only one stop at Melrose Abbey not visiting, but going to a tearoom to warm up, was in a perfect Scottish rainy condition. But then, even when we crossed the border into England, the rain did not stop, but we had additional fog until Newcastle-upon-Tyne.
There we boarded the ferry to Amsterdam, calm sea, smooth sailing to be expected.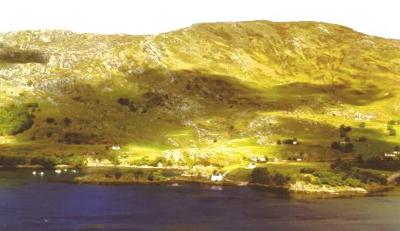 A great motorcycle adventure has come to an end, 14 days and around 4.000 km = 2.500 mi. Scotland is expensive to travel, but definitely worth it. I do prefer the West Coast, the Isles and, of course, the whisky trail. I will try to come back for some more - of Scotland and the single malts. But next time with Marlies and in a car.
The single malts will keep my memory alive, because where ever I go, there will be a place to try a 'wee dram' for good old times sake.
The preselected B&B accommodation was very good, but be aware, sometimes the bathroom that belongs to a single room can be across the hall or down the stairs. But then, we did not come for the Hiltons and Sheratons either.
Our tour guides had taken great pains in choosing the right places to stay, to visit - but most of all, the right roads to ride. At last but not least - they have guided us through the tour without any serious accident.
Slainte!
That about sums up my first but hopefully not my last trip to Scotland.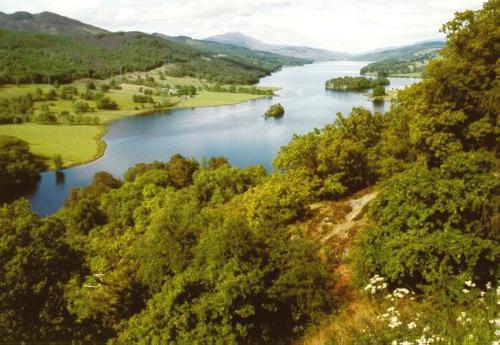 'Und jedem Anfang wohnt ein Zauber inne, der uns beschuetzt und uns hilft zu leben'.
Herman Hesse

I'll try to translate:
'In every beginning there is some magic that will protect us and will help us to go on living'.
Herman Hesse